Niagara Biennial Design Awards - 2020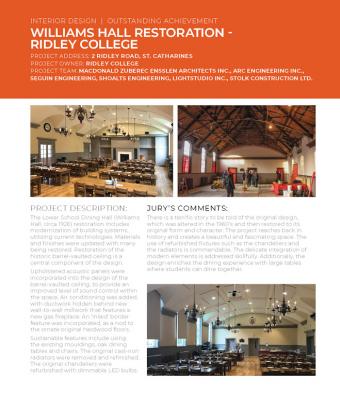 INTERIOR DESIGN | OUTSTANDING ACHIEVEMENT : WILLIAMS HALL RESTORATION - RIDLEY COLLEGE
AWARD PROJECT DESCRIPTION:
The Lower School Dining Hall (Williams Hall, circa 1926) restoration includes modernization of building systems, utilizing current technologies. Materials and finishes were updated with many being restored. Restoration of the historic barrel-vaulted ceiling is a central component of the design. Upholstered acoustic panels were incorporated into the design of the barrel-vaulted ceiling, to provide an improved level of sound control within the space. Air conditioning was added, with ductwork hidden behind new wall-to-wall millwork that features a new gas fireplace. An 'inlaid' border feature was incorporated, as a nod to the ornate original hardwood floors. Sustainable features include using the existing mouldings, oak dining tables and chairs. The original cast-iron radiators were removed and refinished. The original chandeliers were refurbished with dimmable LED bulbs.
JURY'S COMMENTS:
There is a terrific story to be told of the original design, which was altered in the 1960's and then restored to its original form and character. The project reaches back in history and creates a beautiful and fascinating space. The use of refurbished fixtures such as the chandeliers and the radiators is commendable. The delicate integration of modern elements is addressed skillfully. Additionally, the design enriches the dining experience with large tables where students can dine together.
Please click this link for more information and pictures of the award winning projects Award Categories and Winners - Jury Report